DSEAR & ATEX
DSEAR / ATEX Legislation Explained
DSEAR (Dangerous Substances & Explosive Atmospheres Regulations 2002) sets out the legal requirement for Thermal Fluid Systems and Representative Fluid Analysis.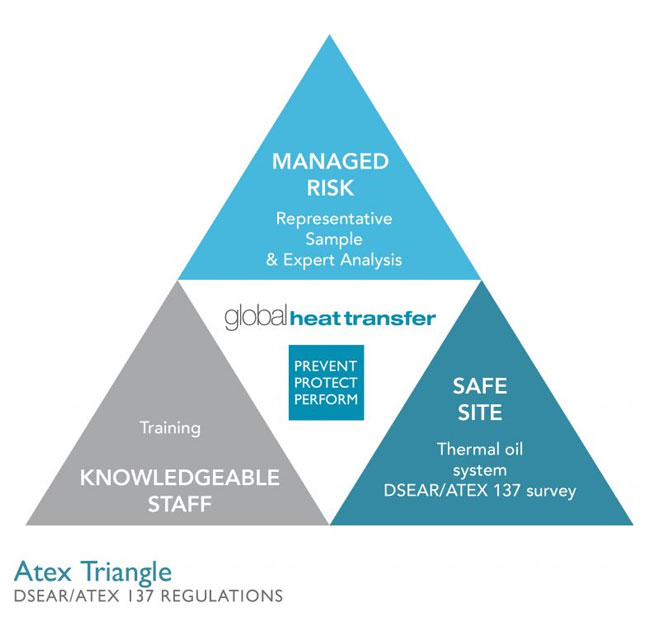 Health and safety legislation requires that employers provide a safe working environment.
DSEAR (ATEX/CAD in Europe) sets out a mechanism for minimising the risks where flammable materials are handled which could create an explosive atmosphere.
Employers have a legal obligation not only to comply with this but to prepare and maintain documentary evidence.
New regulations came into force June 30th 2003
Date for final, total compliance 1st July 2006
Implements 2 x European directives:-
Chemical Agents Directive (CAD) and Explosive Atmosphere Directive (

ATEX

137)

DSEAR

sets minimum requirements for protection of workers from fire (& explosion) risks related to dangerous substances & potentially explosive atmospheres

DSEAR

complements the requirements to manage risks under the Management of Health & Safety at Work Regulations 1999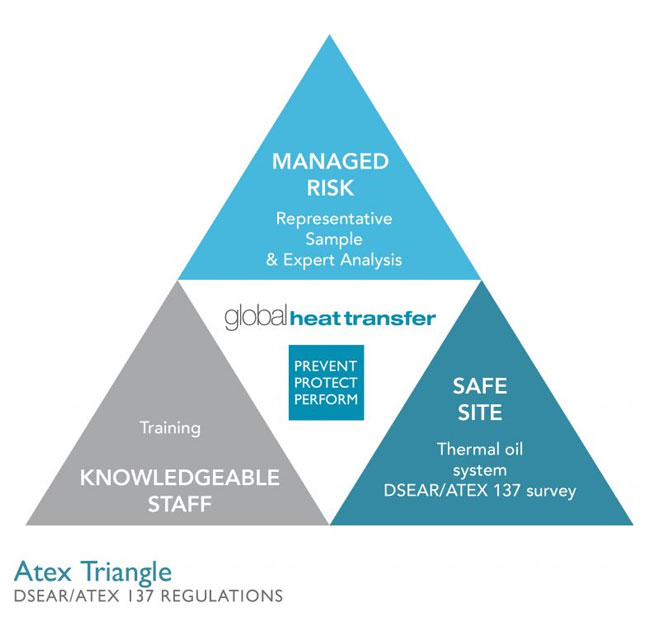 Thermal fluids can become volatile and hazardous, resulting in an explosive atmosphere, if conditions are allowed to deteriorate:
If there is a loss of containment or a fluid leak
Resulting

hydrocarbons

are released as vapour – these represent the most volatile offshoot of the product (known as the

light ends

)
A leak may produce an 'aerosol' of finely divided material – the greater the pressure, the higher the risk
The risk increases when

thermal fluid

has degenerated and

flash point

s, boiling points and auto ignition temperatures have reduced – the lower the

flash point

s, the higher the risk
The hotter the system bulk fluid temperature, the higher the risk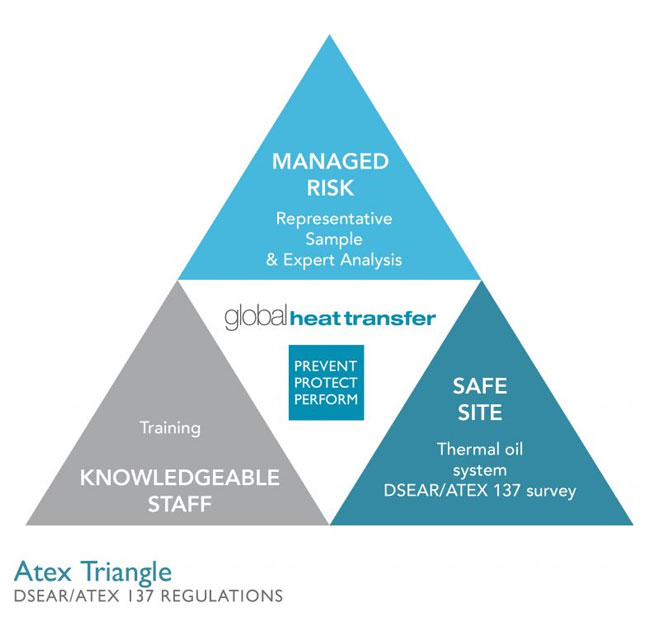 DSEAR applies to any workplace where a substance (or mixture of substances) with the potential to create a risk from energy-releasing events, such as fire, is present.
DSEAR classes petrol, solvents, LPG and certain types of dust as 'dangerous substances'.
Note 1
Thermal fluids experience falling flash points over time due to the effects of high temperature. This increases fire risk in the event of loss of containment and therefore, is considered as a dangerous substance under DSEAR regulations. The regulations therefore apply to all closed heat transfer systems using thermal oils and synthetics.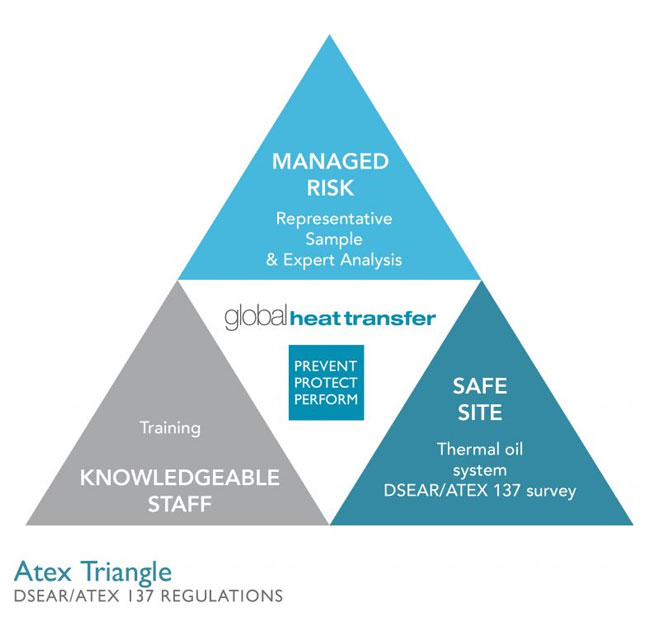 From July 2006 employers must;
Carry out assessment of the fire & explosion risks of any work activities involving dangerous substances, including

thermal oil

s and synthetics
Provide measures to eliminate, or reduce as far as is reasonably practicable, the identified fire & explosion risks.  For

heat transfer oil

this means monitoring of

flash point

s by representative hot, closed

sampling

and to sustain and/or restore

flash point

s by venting procedures or dilutions where the former is not an option.
Apply measures, so far as is reasonably practicable, to control risks and to mitigate the detrimental effects of a fire or explosion and maintain security of the system to prevent leaks and remove sources of ignition.
Provide equipment & procedures to deal with accidents & emergencies
Provide employees with

thermal fluid

management training and precautionary training . This includes ensuring engineers are aware for the need to sample correctly in order to monitor and manage

flash point

s
Where explosive atmospheres may occur (also see Note 1):
The workplace should be classified as hazardous & non-hazardous areas
Hazardous places to be classified into zones on the basis of frequency and duration of an explosive atmosphere and where necessary marked with a sign
Equipment in classified zones should be safe & satisfy the requirements of Equipment & Protective Systems intended for use in potentially Explosive Atmospheres 1996
The workplace should be verified as meeting the requirements of

DSEAR

by a competent person. This would usually be the health and safety manager/director, engineering manager or operations manager/director.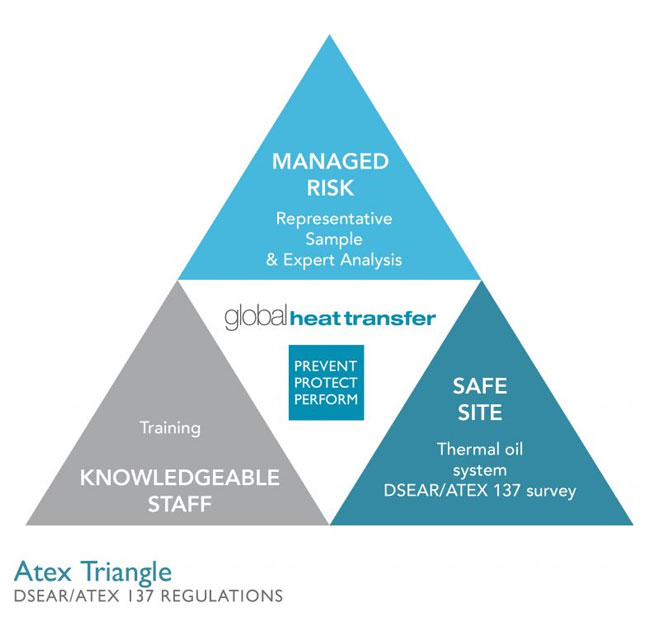 Global Heat Transfer will assist you with all necessary documentation, maintenance schedules and training to keep you compliant with legislative requirements.
Ensure Complete Safety and Regulatory Compliance with DSEAR / ATEX
We provide 3 types of Maintenance Plan to ensure your company is compliant with regulation, staff are kept safe and your site maintains productivity at all times;
Want to improve fluid condition and comply with health and safety regulations?
We will draw a live fluid sample with zero interruption to your process – analyse the results and make appropriate recommendations.
Call us on +44 (0)1785 760555 for more information
Book Sample Analysis