Thermal fluid specialist puts food-grade oil on the menu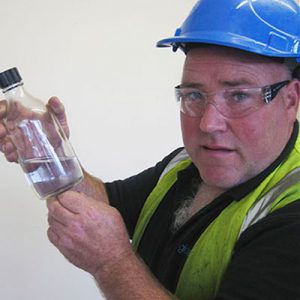 Thermal oil specialist Global Heat Transfer is calling for the food and pharmaceutical industries to ensure they use compliant food-grade (FG) thermal fluids in heat transfer applications. The company believes that, although the use of FG fluids is a regulatory requirement imposed by several bodies including the FDA and NSF, it is one that many manufacturers are entirely unaware of.
If there is any possibility that an oil or lubricant could come into contact with food products, a certified FG fluid must be used to safeguard consumer health. Failure to use FG oil in a food application can result in the loss of the manufacturer's top tier accreditation if the EFSIS (the European Food Safety Inspection Service, part of SAI Global Insurance Ltd.) learn that an inappropriate product is being used.
Non toxic, clear in appearance and odourless, FG oil is extremely important in the food processing industry as it is a regulatory requirement and a sound financial investment. FG oil is designed not to contaminate food so, should a minor spillage occur, there would be no need for products to be recalled. Furthermore, Globaltherm™ FG performs better than none FG products in FG applications as it maintains carbon in suspension rather than depositing it and therefore helps to reduce carbon build up.
Global Heat Transfer's FG oil is a high efficiency heat transfer fluid specifically developed for non-pressurised, indirectly heated, liquid phase heat transfer systems that require bulk temperatures up to 326°C (620°F), as are used in food processing plants, pharmaceutical operations and other FG applications.
Globaltherm™ FG thermal fluid from Global Heat Transfer is fully H1 certified by the US Food and Drug Administration (FDA). It also holds NSF (National Science Foundation) International HT1 approval.
Made from a mixture of pure heat transfer hydrocracked base oils, Globaltherm™ FG thermal fluid has excellent thermal oxidation stability allowing operation at high temperatures for extended periods, which can be extended when the oil is maintained and monitored properly. It is non-hazardous, non-toxic and odourless, which means it requires no special handling and is not considered a controlled substance under United States OSHA (Occupational Safety and Health Administration), Canadian WHMIS (Workplace Hazardous Materials Information System) or other work place regulations.
Global Heat Transfer provides a complete solution for all thermal fluid related issues. It offers 24 hour delivery of premium quality thermal fluids and planned maintenance programmes as well as expert sampling and analysis services. The latter allow the end user to remain compliant with industry regulations and meet their insurance requirements.